Seems most of the dead are people in middle life 15 to 35 years old, from the pics and videos. Just saying.
Holy Father Yahua, and Most Beloved Lamb of Elohim, Yeshua. You lead us to all truth. Help us do what is right, to help others, to educate them, so that those who understand love and appreciate your amazing world and love, can continue to love and serve. Please protect those who are decent, good, and true in their hearts, no matter what religious system they were born into. I pray and ask this on the name and blood of Yeshua. Amen.
Update Friday till midnight
Corona Virus 25 days in
https://www.bitchute.com/video/MfgQMU0WjQwv/
Wuhan Coronavirus, Fallacies in the Media Reporting Case Fatality Rates EXPOSED
ncov 5 days in
https://www.bitchute.com/video/QKBWvCkIZVia/
click to enlarge
So when the delivery trucks stop delivering parcels from China, then you know that the word is quietly spreading that folks won't touch something that carries the plague for up to 28 days. The notice will say...Sorry we missed you...or some such.
China uses surveillance drones to enforce people to be obedient
https://www.bitchute.com/video/JdWL15e5wdFs/
Wuhan coronavirus VAP - Virulence associated protein ( ORF10 )
https://www.bitchute.com/video/3CqvE8gA0NS0/
02-07-20 A Stunning 400 Million People Are On Lockdown In China As Guangzhou Joins Quarantine
The decision means
3 provinces, 60 cities and 400 million people
are now facing China's most-strict level of lock-down as Beijing struggles to contain the coronavirus outbreak as the virus has already spread to more than 2 dozen countries.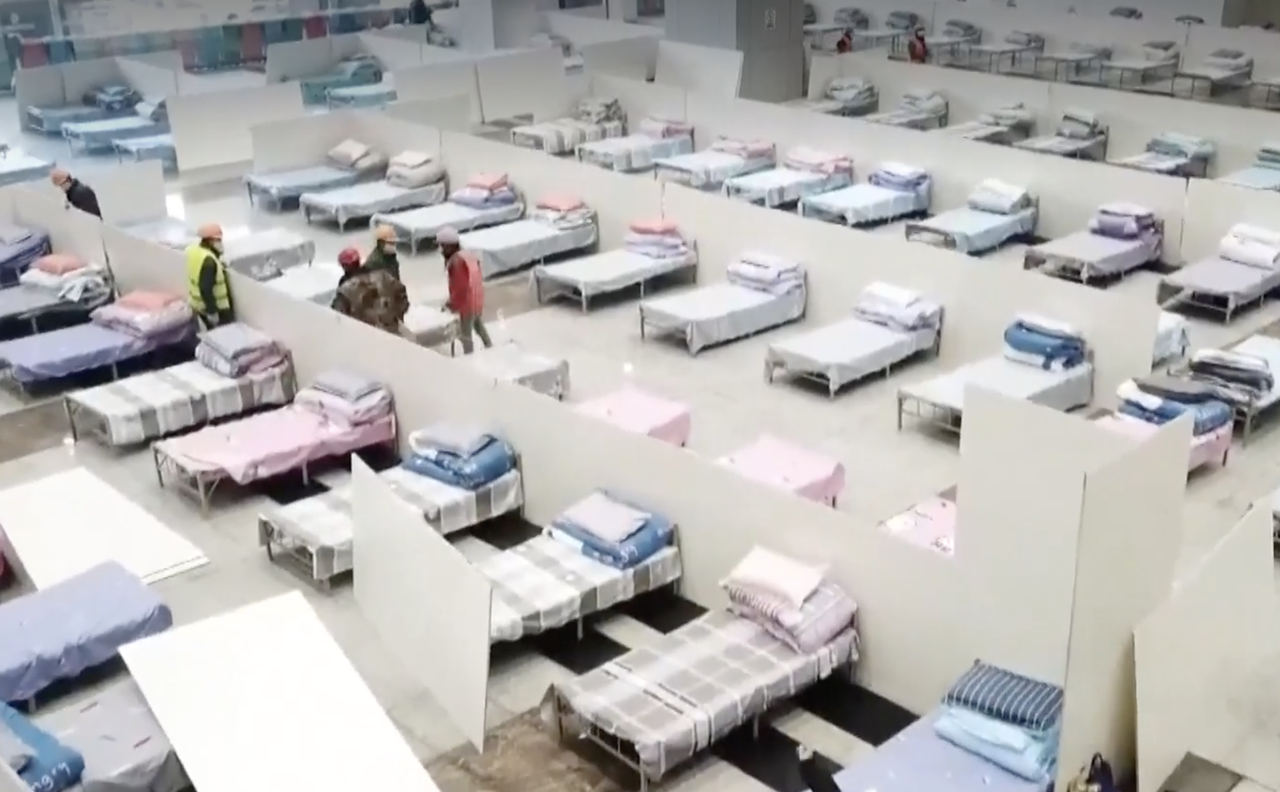 That's more than 400 million people forcibly locked inside their homes for 638 deaths? Just think about that:
If there was ever a reason to believe that Beijing is lying about the numbers (and not just because Tencent accidentally leaked the real data), this is it.
— 曾錚 Jennifer Zeng (@jenniferatntd) February 7, 2020
Meanwhile, in the US, the Trump Administration has directed researchers to investigate the 'true origins' of the virus, as 'conspiracy theories' and misinformation spreads online. We can't help but wonder: What if the scientists discover something that the regime in Beijing doesn't want them to see?
— 曾錚 Jennifer Zeng (@jenniferatntd) February 7, 2020
Elsewhere, Singapore raised its national disease response level to Orange, the second-highest level and the same level from the SARS epidemic, according to the city-state's health ministry. It also confirmed three new coronavirus cases. While investigations are ongoing, none of the three appear to have a history of recent travel to China, suggesting they picked up the virus in Singapore.
'Orange' means the outbreak "is severe and spreads easily from person to person" but "has not spread widely in Singapore and is being contained," according to the Disease Outbreak Response System Condition color-coded framework. Singapore has never invoked its highest level, red, per
BBG
.
Update Thursday till midnight
20 Days in PART THREE
https://www.bitchute.com/video/IPoUvSw6gGgD/
15 days in PART TWO.

THIS IS HARD TO WATCH. YOU ARE WARNED.
https://www.bitchute.com/video/MgkmOVMrL0hB/
Still trust the WHO? Here is why one shouldn't
West Nile Experiments: A field experiment in the West Nile district allowed researchers to take blood from children 3 times a day, in order to allegedly study an local disease causing mononucleosis. It has been alleged they were actually being infected with contaminated polio vaccines and their antibodies were being studied. Around 45,000 were tested from 1960-1973.

Ebola and HIV Experimentation: It has been alleged that the WHO was aware of a Dr. Hilary Koprowski, a doctor allegedly performing research on AIDS and Ebola by deceiving and infecting Africans with a faux polio vaccine. It was estimated that over a million Africans were infected from 1954-1957. However, his work having been the cause of any disease has been refuted.

2013–2016 Ebola outbreak: Following the 2014 Ebola outbreak in West Africa, the organization was heavily criticized for its bureaucracy, insufficient financing, regional structure, and staffing profile. They were also caught staging, with local crisis actors, fake deaths in villages to sell the VACCINE.

International Agency for Research on Cancer (IARC) controversies: The World Health Organization sub-department, the International Agency for Research on Cancer (IARC), has been criticized for the way it analyses the tendency of certain substances and activities to cause cancer and for having a politically motivated bias when it selects studies for its analysis. Ed Yong, a British science journalist, has criticized the agency and its "confusing" category system for misleading the public. Marcel Kuntz, a French director of research at the French National Centre for Scientific Research, criticized the agency for its classification of potentially carcinogenic substances. He claimed that this classification did not take into account the extent of exposure: for example, red meat is qualified as probably carcinogenic, but the quantity of consumed red meat at which it could become dangerous is not specified.[147]

IARC Cell Phones: Controversies have erupted multiple times when the IARC has classified many things as Class 2a (probable carcinogens) or 2b (possible carcinogen), including cell phone signals, glyphosate, drinking hot beverages, and working as a barber.

Robert Mugabe's role as a goodwill ambassador: On 21 October 2017, the Director General Tedros Adhanom Ghebreyesus appointed former Zimbabwean president Robert Mugabe as a WHO Goodwill Ambassador to help promote the fight against non-communicable diseases. The appointment address praised Mugabe for his commitment to public health in Zimbabwe. The appointment attracted widespread condemnation and criticism in WHO member states and international organizations due to Robert Mugabe's poor record on human rights and presiding over a decline in Zimbabwe's public health. Due to the outcry, the following day the appointment was revoked.

The above list from Wikipedia. There were more, but those looked like the most serious charges. Not to mention the fact that the CIA routinely uses them and the Red Cross as covers for their agents in the field for wet work black ops.
Moreover, the WHO has praised China's strong quarantine approach and allegedly honest reporting while condemning the US and other countries for banning flights.
The WHO is a SPOS. The first "S" stands for sorry. You can work out the rest.
It's up to our Father to stop this cold, as he's done so many times before when they tried this shite. If he lets it run, it's because we have collectively as any nation, been weighed in the balance and been found...wanting. If that be the case, then it goes down to the individual...as it did with the 1918 Spanish Flu Pandemic that wiped out 22 millions.
Gigi Choy
and
Linda Lew
In an updated treatment plan released on Wednesday, the commission also warned that it was investigating whether aerosol and digestive tract infections were transmission modes after traces of the coronavirus were found in patients' faces.
The commission added respiratory problems to the list of symptoms for suspected cases. It also expanded the classifications for coronavirus patients from three to four, adding a category for "light" cases.
Those in the "light" category and who exhibit
such as fever, fatigue, cough or breathing issues but no lung infection must be quarantined and treated to curb the spread of the disease, which has spread to more than 20 countries since the virus was first detected in China about a month ago.
"Some patients show mild symptoms but they are still infectious … that is why we have added the 'light' category in this edition of the guidelines," Li Xingwang, from the commission's expert panel, said.
"The number of suspected cases might increase because of this but if we can find these cases with atypical symptoms earlier, it will help control the spread of the virus."
Yanzhong Huang, senior fellow for global health at the Council on Foreign Relations, said: "I think the main purpose of including this new category is to reduce the pressures of hospitals in admitting patients while also taking into account that asymptomatic carriers can shed virus. It is unlikely that this will lead to the spike of cases because it will not affect the protocols of confirming cases."
The commission also recommended a cocktail treatment of antiviral drugs known as Kaletra, ribavirin and inhalable interferon. But no medication had proved to be a cure, it said.
Antivirals are used in the treatment of HIV, hepatitis and influenza. They can help boost a patient's immune system to kill the virus or prevent the virus from replicating.
"For mild cases, you'd be more focused on ways to boost the patients' immune system so older drugs like interferon and others like it could probably be quite useful," said a pharmaceutical industry executive who did not want to be named.
The guidelines also warned of side effects from the drugs. Interferon is known to cause mood disorders, increased infections and stroke, according to the US Food and Drug Administration.
China to open second coronavirus hospital built in 10 days, with more beds than first
Hospitals in Bangkok and Hangzhou in Zhejiang province have reported some success in treating patients using combination drug therapy.
China has also filed for a patent for the use of remdesivir – an experimental drug developed by US-based Gilead Sciences – to fight the virus, according to a statement from the Wuhan Institute of Virology in the central Chinese city at the epicentre of the outbreak.
The institute said it applied for the patent in the national interest and would not exercise its patent rights if foreign pharmaceutical companies worked with China to help contain the epidemic.
Remdesivir was initially developed to treat Ebola but has been repurposed to treat the new coronavirus. It is not approved or licensed anywhere in the world but is being rushed into human trials in China after showing effectiveness against severe acute respiratory syndrome (Sars), which is in the same family as the new coronavirus.
The condition of the first patient in the US infected with the virus, a 35-year-old Washington state man who returned to the country after visiting family in Wuhan, improved after he received remdesivir, his doctors said in a study published in The New England Journal of Medicine last week.
Gilead said on Friday that it had provided the experimental drug for use in a small number of patients to "establish a randomized, controlled trial to determine whether remdesivir can safely and effectively be used" to treat the virus.
Other drugs being tested in animal experiments and human clinical trials in China include chloroquine phosphate, an 80-year-old malaria drug, and favipiravir, a broad-spectrum antiviral drug.
The previously unknown coronavirus, which first emerged at the end of December, has killed almost 500 people and sickened more than 24,500, including in Japan, Australia, Germany and the United States.
Cases attributed to the rapidly spreading illness have been recorded in all of China's 31 provinces, municipalities and autonomous regions.
BY
Workers at crematoriums in Wuhan City, the epicenter of the coronavirus outbreak, say their workload has increased dramatically in recent days, as they constantly transfer the bodies of victims from hospitals and private homes.
In an interview with The Epoch Times, a worker described long working hours to cope with the sudden increase in bodies to be cremated.
Meanwhile, videos from workers dealing with the crisis have been circulating on social media, including one from a worker at a Wuhan funeral home who shared footage of more than 10 bodies lying on gurneys, lined up for cremation.
Some netizens also shared videos they shot within different hospitals in Wuhan, showing bodies waiting to be transferred from the hospitals to funeral homes.
Since funeral home workers don't know for sure whether the person died from the coronavirus, they wear protective suits and masks in order to defend themselves from potential infection.
Working 24/7
Wuhan has three main funeral homes in the downtown area, which are equipped with crematoriums. While cremation is a common burial practice in China, in a notice issued on Feb. 1, China's National Health Commission said that people who have died from the virus can't be buried and their bodies should be cremated immediately.
Because of the coronavirus outbreak, Wuhan's Civil Affairs Bureau designated the Hankou Funeral Home to deal with the bodies of those who were diagnosed and died of the virus, according to state-run media. In addition, the Wuchang Funeral Home and Qingshan Funeral Home were designated to attend to those who died from severe pneumonia, or who were suspected coronavirus cases and died.
A worker at a Wuhan crematorium said in a Feb. 4 interview that he and his colleagues have worked 24 hours, seven days a week since Jan. 28. He said they are exhausted, and are working without proper equipment such as body bags, protective suits, and face masks.
"Since Jan. 28, 90 percent of our employees are working 24/7 … we couldn't go back home," a man identified as Mr. Yun told the Chinese-language Epoch Times in a phone call. He works at the Caidian Funeral Home, one of four facilities in a suburban area of Wuhan.
"We really need more manpower," he said.
Meanwhile, more bodies continue to arrive every day.
"We need to pick up bodies when they [hospitals, communities, or family members of the deceased] call us. Every day, we need at least 100 body bags," he said.
His workplace is required to pick up bodies from the Wuhan Tongji Hospital, Wuhan No. 13 Hospital, the newly built Huoshenshan Hospital, and other small hospitals, as well as any residences that request its services.
Yun says he's spoken with workers at other Wuhan funeral homes, who are also overwhelmed.
"Almost all staff at each funeral home in Wuhan are fully equipped, and all Wuhan cremation chambers are working 24 hours," he said.
The worker said staff can only sit on their chairs and nap whenever they get a chance.
"We can't stop because we can't leave the bodies outside for a long time," he said.
The staff members also lack protective gear.
"For us who transfer the bodies, we don't eat or drink for a long time in order to preserve the protective suit, because we need to take off the protective suit whenever we eat, drink, or go to the bathroom. The protective suit can't be worn again after being used," he said.
Yun said other staff at the funeral home, such as the receptionists, don't get to use protective suits.
"They wear raincoats to protect themselves," he said.
Sleep?...they just drop dead and the guy in hazmat is just a coinkydink, right?
Deliberately done? Then what's this all about? And less than 30 days later, the country is hit with the plague of the 21st century...as they go by. The following is one hell of a smoking gun as to who pulled this trigger.
China: Vaccine Law Passed (Aug. 27, 2019) On June 29, 2019, the National Peoples Congress Standing Committee of the Peoples Republic of China (PRC or China) adopted the PRC Law on Vaccine Administration (Vaccine Law). The official Xinhua news agency states that the Law provides for the strictest vaccine management with tough penalties in order to ensure the country's vaccine safety. The Law will take effect on December 1, 2019 (art. 100). https://www.loc.gov/law/foreign-news/article/china-vaccine-law-passed/
This law just murdered 1.2 billion Chinese with various binary weapons ala germ warfare. The big CULL is on.
This ongoing horror story of an article by Don Bradley.

I'll explain later tonight or tomorrow the motive for actually reporting on one of these plagues, when I've routinely ignored all the others, over the last three decades. In short, this one happens to be real, not a fake out job to scare people into getting some bullshite vaccination that actually poisons them with some binary bio weapon to be triggered somewhere down the line. Like this one quite obviously is doing. See it now?
All of our Father's blessings be upon you. You know who you are. You...the very few...the very kind...the very great blessing to myself and the world that you are. Thank you.
Here is a video - while it lasts - on bitchute.
This virus has HIV1 mixed in it and we know it.
Update Wednesday evening till midnight at least.
The hospital they built in ten days (like America used to do, but no longer.) Barred windows, doors lock from the outside, and guess what they put in the buildings with the BLUE roofs? No patient has EVER left here on their own steam. According to folks that over look the massive structure. Folks in Wuhan are calling it a hospice, which as I found out, is a place where people go to live out their last days? Anyways.
Based on WHO estimates, death count over next ten days. Maybe...I don't trust the very people that go around to other countries and stick mercury and aluminum adjuvents by the millions into unsuspecting 3rd worlders. The WHO and CDC are the mass killers of our time, and defendants at large for all things vaccine. You know, the bad guys.
Thing is, refrain from panicking. You have our Holy Father and Yeshua, our King and the Lamb of Yahua Elohim, in whose blood you are covered. You are okay.
If you see the signs and tells discussed below, then quietly do what is necessary to gently awaken those you love, gather food stuffs for at least 2 to 4 weeks, if practicable, and STAY CALM. Be a center of serenity and strength...for the others, who will need that from you more than anything else. Best help you can be, is to radiate personal strength and confidence, and keep the fear frequency slain in your reality. The CENTER CAN HOLD. BE THAT CENTER.
Or I'll have Mugsy and some of the boys come over to "slap you around" and "take you for a ride." (old Looney Toons from the fifties I saw once with bugs bunny. Keep the humor going and keep it on HIGH.)
Now, for outside of China, how to know when there is a real presence of CNOV in your community or whatever you call your reality...hamlet, village, town, city, shit-hole, okay? (A little humor there.)
You are out and about and lo and behold, you begin to see people driving abouts or walking hither and yon, and they are wearing those surgical masks that the hospital folks use to keep themselves from getting infected by...whatever.

These people...the first to use them and usually like a light switch turning on, all at once, there they are...these are the coven members of the satanic network, which is also FBI, CIA, et al.They will get the word first, savvy? They won't tell you, nor will it be on the radio or TV, but they will know and have already, their eye glass and mask kits purchased. This is why, on Amazon, they are sold out and for months. Who bought them? You? Me? Nope. Those who were ORDERED to prepare and these people follow orders, or ELSE.

Then, you will notice that again, lo and behold, more and more people start seeing this and start wearing them. If they cannot be purchased and they won't be available at any price pretty fast, you'll see folks taking scarves, kerchiefs, and the like and using those instead. When I do construction work and such, I wear a red kerchief. Same for hiking, to keep the dust out of my lungs. In other words, you find a way to make do. I suggest you prepare as they have done, just to be safe.

For it may well be that our Heavenly Father does not wish this plague upon this totally evil and satanic land of ours, filled with every kind of dark enterprise beyond imagining. The few good may outweigh the many evil, as is so often the case. As He declared to Abraham that if 10 souls that were decent could be found in the five cities of the plain, he would spare them from judgement of their sins. He didn't find, they were turned to ash.
Wuhan Funeral Pyre Being Built, one of six tonight
https://www.bitchute.com/channel/OryiXsZftpZG/
We're at the stage of the plague where temporary civilization collapse is right around the corner. Mass disposal of bodies has begun, and civil servants are no longer taking bodies away on time, with the state resources focused on heavy handed policing executing the sick and those showing visible signs of panic, which is commonplace everywhere in China. It's a playbook. It's the same process that happened in 1351 and the same process that happened in 1918. The kill squad members themselves often go insane, shooting themselves over the horror of it all. As is happening already.
Conspiracy


Google Maps moved location of Wuhan biolab. Now why would they do that? So the site isn't targeted for destruction (please hope it is) with a cruise missle or some such? For in that place, every demonic bio weapon evil can imagine is being manufactured there. Please, someone, destroy the unholy compound and all within it.

http://archive.is/QIBmE
News
Over half of China under lock-down, accounting for 80% of GDP, 90% of exports
http://archive.is/HLAN0

It is "increasingly unlikely that the virus can be contained" says former director of the Centers for Disease Control and Prevention. They don't want it contained, now that the angel of death is out and moving quickly across the four corners of the world.
http://archive.is/Mggc6
BRING OUT THE DEAD...BRING OUT THE DEAD...
This is all happening during extremely cold weather, which keeps people out of the sunshine and the development of vitamin D and a strengthened immune system. Most of these provinces are now living under Martial Law.
"The Daily Star reports that "thick fog" across the city could be the result of smoke from crematoriums burning corona-virus-infected bodies '24 hours a day'." Fire analysts say we are looking at smoke, not fog, and smoke created by LNG.
Wuhan has had some very very high concentrations of sulfur gas recently, like 10 times higher that "damn that's really high". Factories are shut down so where is it coming from? Even factories could only explain a fraction of it.
Burning 30-40k human bodies at once would account for it though.
Radio Free Asia (RFA) has tweeted a disturbing video on its Twitter account on Saturday morning detailing how those who died of coronavirus in Wuhan, the outbreak area in China, were loaded up on a bus and taken "directly to the crematorium."
The three ways this virus kills...or four, counting death squads collecting the sick and executing them
The shakes or tremors...

vomiting blood...

simply falling over dead...

kill squads (click link below for proof)
https://twitter.com/i/status/1225136641733361664
Once the viral weapon does what it was designed to do, the following becomes reality.
There are 17 crematoriums in Wuhan, running around the clock, in three shifts of personnel.

Each crematorium has 8 ovens, also running around the clock.

It takes 2 hours to turn a small Chinese person to ash.

They have now, over 200 vehicles just for body transport to the crematoriums.

Time for some math.

The above means, each crema can ash 12 people every 24 hours, round the clock.

17 cremas at 8 ovens per crema multiplied by 12 people turned to ash is

1,632 ashen remains every 24 hours.
Sadly,
many nurses, technicians, doctors, and EMTs are literally LOSING THEIR MINDS and are being carried away by special services police (think STASI, KGB, GESTAPO, like that). I have in my possession much footage of these black suited thugs hauling off hospital workers in complete mental collapse and tossing them into vans or lorries. People are reporting that they are never seen or heard from again.
I have downloaded much, but if I put it up, it will expose innocent people to the awareness of the black suit guys (to be taken away in the middle of the night) and people who are already giving all they have, including their lives no doubt, will meet an ugly and certain end. As in bullet in the back of the head kind of sympathy and understanding. As communist countries do.
Going socialist is a VERY BAD THING. And, being off topic, I cannot believe these blue haired freaks thinks a socialist America is a good thing. Ask the frightened Chinese, as they look over their shoulder or down at the spy camera on their cell phone if they "like" their commie reality.
As noted, the closet funeral home/ alleged crematorium is right down the street from Wuhan hospitals.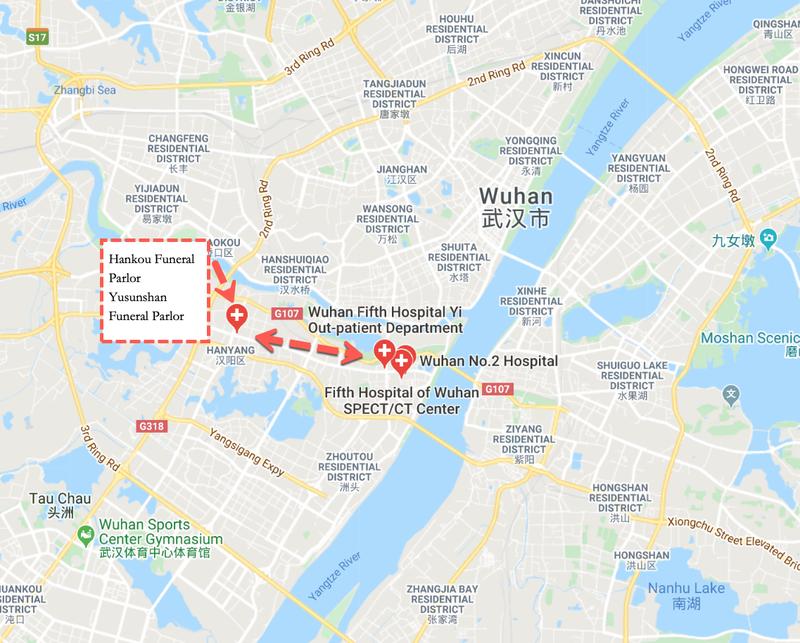 They have 5 crematoriums downtown on one block, the rest are scattered around.
State-run Global Times tweeted last week that "victims should be cremated close by and immediately. Burials or transfer of the bodies not allowed. Funerals not allowed to avoid spread of the virus."
Bodies of #nCoV2019 victims should be cremated close by and immediately. Burials or transfer of the bodies not allowed. Funerals not allowed to avoid spread of the virus: National Health Commission (File Photo) pic.twitter.com/IsAHnuY4Rk

— Global Times (@globaltimesnews) February 2, 2020
And while it appears China has resorted to mass cremation of those who died of coronavirus in Wuhan, Taiwan Times reported Wednesday that China's Tencent might have inadvertently released what is potentially the actual number of infections and deaths, which were astronomically higher than official figures.
And while the number of cured cases was only 269, well below the official number that day of 300, most ominously, the death toll listed was 24,589 vastly higher than the 300 officially listed that day, January 27th.
Not to mention the odd reports of mass funeral pyres at night of the dead.
https://twitter.com/russian_market/status/1225087706289573888
Update 9:00PM
Smelling death, tens of thousands of crows descend on Wuhan in huge flocks -
now it'll cross over to birds.
NHC Deputy Director Jiao Yahui said the national fatality rate was just 2.1%, with the vast majority of deaths in Hubei province. Some scientists have projected that the real death rate might be closer to 11%.
The RV factor (the rate at which each person will, over the course of having the virus infect others) is 4.0% The common cold is 0.01%. This means each person infected will infect four other people. Akin to the bubonic plagues of the 13th century.
Especially after Hong Kong suffered its first confirmed fatality due to the coronavirus, marking only the second death from the outbreak outside China. The dead man traveled by train to Wuhan on Jan. 21 before returning to Hong Kong two days later.
Macau, the only place in China where casino gambling is legal, shut down its casinos for at least the first half of February.
Most airlines have now restricted all international flights to and from, China.
--------------------

Thousands are dying daily in China. Footage represents one district, in parts, in one province. In China, the word on the street is that each Province is giving up about 30,000 dead per day and that number is from January 27th, 2020.
This is a bio-weapon. We are being lied to.
When it lands here, and IT ALREADY HAS, and you get it, you will not see the sunset the same day. It is a SAME DAY KILLER. Shortness of breath in the morning, dead by evening.
All victims have one report only. It is this.
Shortness of breath, then loss of consciousness. They never saw the sunset from them on.
Thousands of vans go up and down streets collecting bodies to keep them from piling up, etc. That's about all they can do. Everything they try to help the patient does not work. Any videos of patients walking out of hospitals cheering happily ARE STAGED. Be advised.
Minimize your contact with strangers. Get a surgical mask NOW, not LATER, if you must go out. This is an airborne disease. Get focused. Make a food run etc of what you need for the next week and get it done NOW, not LATER. It is believed the chemtrail planes are the vectors of this weapon.
You've been warned.
YouTube banned me from uploading this video.
You know me. I don't do the fear thing, never have. But I've seen too much smuggled footage from China to hold back any longer, now that they are admitting that it is in LA, Chicago, San Diego, and a few other cities. If true, then those people are already dead. And the media is acting like its no big deal, go back to sleep.
They ARE NOT SLEEPING IN CHINA. Everything has come to a complete stop, commerce wise. Everything.
Keep your immune system popping. Sunlight for Vitamin D, colloidal supplements for vitamins and minerals, and real juices from real plants and vegetables. Those are your only defense, because the mechanism this weapon is deployed through is THE COMMON COLD.
UNDERSTAND? GET ME?
Here is a video - while it lasts - on bitchute.