The dude is NOT a whistle-Blower.....he is a disinformation CIA spy.
The CIA again! Every time some new attack and alleged this or that comes up against Trump that every satanist and leftist IN THE WORLD runs with, it always lands right back to the CIA's doorstep.
EVERY. SINGLE. TIME.
The CIA is run by satanists to destroy this world, its decency, and all evil we deal with, is an operation with them in deep shadows.
I wish JFK had destroyed them as he promised he would do. Then they killed him.
DB
Soon after the Ukraine-gate "whistleblower" complaint was made public, questions about the source's knowledge and background began to rise, as one former CIA officer noted very specifically:
The way this complaint was written suggested the author had a lot of help. I know from my work on the House Intel Commitee staff that many whistleblowers go directly to the intel oversight committees. Did this whistleblower first meet with House Intel committee members?
My view is that this whistleblower complaint is too convenient and too perfect to come from a typical whistleblower. Were other IC officers involved? Where outside groups opposed to the president involved?
This complaint will further damage IC relations with the White House for many years to come because IC officers appear to be politicizing presidential phone calls with foreign officials and their access to the president and his activities in the White House.
Worst of all, this IC officer -- and probably others -- have blatantly crossed the line into policy.
And sure enough, if The New York Times is to be believed, the complainant is a C.I.A. officer who was detailed to work at the White House at one point, according to three people familiar with his identity.
The man has since returned to the C.I.A., the people said.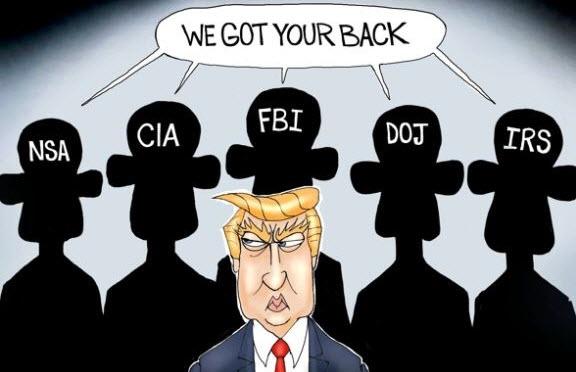 jokers to the left of me, assholes to the right
The NYTimes, of course, puts its spin on the news, claiming that the whistle-blower's expertise will likely add to lawmakers' confidence about the merits of his complaint. However, given the current state of affairs, we suspect it will simply remind a deeply divided nation of the bias and prejudice that exists behind the President's back.
As Chuck Schumer once warned Trump:
"Let me tell you: You take on the intelligence community - they have six ways from Sunday at getting back at you... So, even for a practical supposedly hard-nosed businessman, he's being really dumb to do this."
We wonder how many more ways these evil satanic shits have left. And yeah, gay boy Schumer was giving out a veiled threat to the Commander in Chief.
Mitt's former campaign associate was with the CIA and is a board member of Burisma......along with Hunter Biden.....so many odd coincidences here.....and all these folks are going after Trump because he dared to talk to the Ukrainian leader.
"On 18 April 2014, Hunter Biden, the son of then-US vice president Joe Biden, was appointed to the board of Burisma Holdings, earning as much as $50,000 per month in some months.[5] In February 2016, Joseph Cofer Black, the Director of the American CIA's Counterterrorist Center (CTC) (1999–2002) in the George W. Bush administration and Ambassador at Large for counter-terrorism (2002–2004) joined Burisma's Board of Directors.[6]
source zero hedge
FROM THE INTERNET