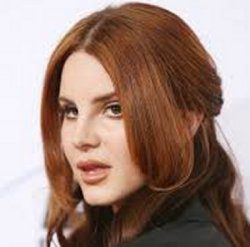 Lesbian scowl - check. Evil witch-check. Stunted soul waiting for fire - count on it.
In an interview with British music publication NME, Del Rey admitted that a mysterious tweet that she sent out earlier this year that asked her followers to gather ingredients for a midnight ceremony was part of an attempt to place a hex on Trump.
"Yeah, I did it," the singer told NME. "Why not? Look, I do a lot of sh*t."
Expanding on her interest in the occult, Del Rey said she believed that "vibrations" created by thoughts were capable of manifesting themselves physically, presumably via occult rituals.
"I'm in line with Yoko [Ono]and John [Lennon] and the belief that there's a power to the vibration of a thought," she said. "Your thoughts are very powerful things and they become words, and words become actions, and actions lead to physical charges."
Del Rey's original hex was designed to get Trump removed from office. While that hasn't happened yet, he does have the lowest approval rating of any first-year president ever, and he's come under the scrutiny of former FBI Director Robert Mueller, who was appointed as special counselor to investigate Russian interference in the 2016 presidential election. Source:
The Atheists, Satanists, and Witches at Raw Story
So how was this Witch raised? Why a Roman Catholic of course!
I just wrote a article P
art 2 of Cannibalism. Training Children to be Cannibals
and the same can be said of training them to be Witches!
Del Rey grew up in rural Lake Placid, New York, and was

raised Roman Catholic

. She a

ttended a Catholic elementary school and for one year, a high school

where her mother taught. She began

singing in her church choir when she was a child

, where she was the cantor. At

age fifteen

, she was sent to Kent School by her parents to

resolve her rampant alcohol abuse

. Her uncle, an admissions officer at the boarding school, secured her financial aid to attend.
Source: Wikipedia
How many other Jezebels got their start in the church choir and then turned evil?
Beyonce
,
Miley Cyrus
,
Katy Perry
! Note that it says she was a drunkard by the age of 15. What in the hell were those good ole Catholic parents doing? Probably guzzling down the sacramental wine with her!