UPDATE
French President Emmanuel Macron slammed Greta Thunberg after the 16-year-old climate activist
filed a legal complaint
accusing five countries of inaction on global warming
in violation of the 30-year-old UN Convention on the Rights of a Child. Germany, France, Brazil, Argentina and Turkey.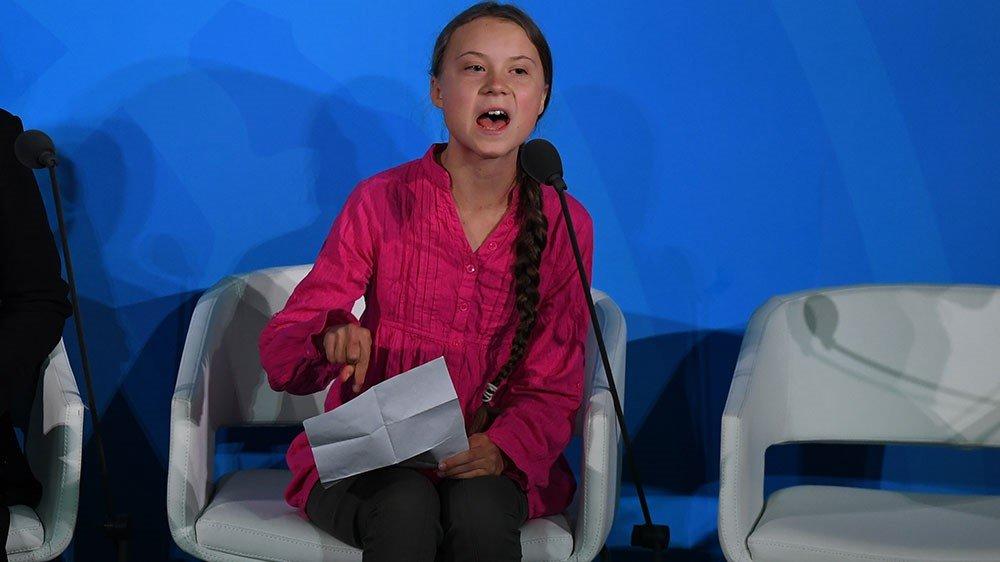 How did a nobody become an instant celebrity? Unless the satanic network put her there.
Notably, she left out China - which is the world's worst polluter by total volume. Which makes her claims a bold faced lie. She completely leaves out Africa and China, the two continents that create 89% of all world pollution.
Now why would little RBF witch do something so flagrantly deceptive to any kind of truth? Is because the whole climate slavery hoax - itself an aspect of the Agenda 21 plan to enslave the world in mega cities - isn't about enslaving ALREADY ENSLAVED PEOPLES, BUT THOSE THAT ARE FREE AND FREE TO PRAY AND SERVE WHATEVER VERSION OF THE ALMIGHTY THEY UNDERSTAND?
IT WOULDN'T BE THAT WOULD IT? WELL???
Good morning to everybody except China for being the biggest polluter in the world yet somehow escaping the wrath of Greta Thunberg

— Ashley StClair 🇺🇸 (@stclairashley) September 24, 2019
After browbeating the UN for '
stealing her childhood
' on Monday, Thunberg
tweeted
"Today at 11:30 I and 15 other children from around the world filed a legal complaint against 5 nations over the climate crisis through the UN Convention on the Rights of the Child."
Thunberg's complaint calls out nations that have ratified the UN treaty, yet - according to her - have not upheld their obligations. And again, she's said
nothing about pollution from China or India
.
AGAIN, FROM THE INTERNET ON UPDATE
------------
Have a look at her parents and their 'antifascist all-star' t-shirts...
https://turtleboysports.com/this-angry-swedish-girl-is-gonna-be-so-pissed-in-12-years-when-everythings-fine-and-she-realizes-that-cultist-adults-stole-her-childhood/
--------------
The fact that she leaves out India and China is a clear red flag that this isn't about pollution but adopting and shoving political dogma down people's throats.
-----------
All you need to know about #ProjectGreta:
http://www.wrongkindofgreen.org/2019/01/17/the-manufacturing-of-greta-thunberg-for-consent-the-political-economy-of-the-non-profit-industrial-complex/
She is a pawn and 100% expendable like soldiers in chess. She has a few moves left, but after she is is not anymore a kid, they will sacrifice her and move on to the next wonder-kid.
---------
-----
Watch. Greta will come out as trans within the year. (precisely. She is already a lesbian. DB)
-------------
Ironic how last weekend, in our valley well organized climate rallies, complete with booths, musical acts, and food sellers all descended here on Sat and Sun, both in the witches sabbath zone. This young lady...with her
RBF - Resting Bitch Face, and angry permanent scowl, was a planned op to push Agenda 21 forward. The whole event in Ojai was run by the satanic left. They had banners, media, everything. This was planned, organized and funded a long time ago to fire off on the witches sabbath, which is what they did. I was there, observing.
Of course we had the covens doing little ritual ceremonies in plain site. The only people NOT involved in putting on the event, where just trying to get through their blockade of hate filled and snarling yelling at people. So we prayed early and "helped" them. All their mojo, hate, and ranting came to nothing. For no one was there to be affected by it.
And no one showed up.
As a friend pointed out, The whole thing was totally wack.
And as I pointed out, we are strangers now, in a strange land. A land of darkness and slavery, under the guise of saving the planet.
They shut down their well funded road show early, because no one showed up. Just a few tourists trying to get around the agenda 21 of hateful death.
DB
I know a multi-generational witch when I see one. And I see one now..
Fear mongerers. It's the Beast they serve.
To all the school kids going on 'strike' for Climate Change:

You are the first generation who have required air-conditioning in every classroom.
You want TV in every room and your classes are all computerized.
You spend all day and night on electronic devices.
More than ever, you don't walk or ride bikes to school but arrive in caravans of private cars that choke local roads and worsen rush hour traffic.
You are the biggest consumers of manufactured goods ever and update perfectly good expensive luxury items to stay trendy,
Your entertainment comes from electric devices.
Furthermore, the people driving your protests are the same people who insist on artificially inflating the population growth through immigration, which increases the need for energy, manufacturing and transport.
The more people we have, the more forest and bush land we clear and more of the environment is destroyed.
Also this, One volcano eruption for ONE DAY, creates more Co2 than any decade of human activity. But you don't live with the REAL truth of Earth, you share fear and lies. And damn you all for it. Damn you.

How about this...
Tell your teachers to switch off the air-con.
Walk or ride to school. Switch off your devices and read a book.
Make a sandwich instead of buying manufactured fast food.
No, none of this will happen because you are selfish, badly educated, virtue signalling little 'princesses', inspired by the adults around you who crave a feeling of having a 'noble cause' while they indulge themselves in Western luxury and unprecedented quality of life.

Wake up, grow up and learn to research facts and think for yourself and not blindly accept the words and thoughts of others - I don't think you formulated this action plan all by your self - suspect you may have had some influence and 'guidance' from those you trust ....a word of warning, be cautious of the influence of the 'left' because there may be a time in the future that you will be the ones left out...
Ten bucks says by weeks end, the UN declares her climate change person of the year, or TIme magazine will, complete with satanic hate-filled snarl she permanently wears. She just got promoted in the ranks of the coven network, to be sure. Her talk show schedule and talking points arranged by hidden handlers.
Greta Thunberg's handler is well known German climate fascist and lesbian Luisa Marie-Nuebauer who belongs to and is funded by ONE foundation owned by Bill Gates and sponsored also by George Soros.
As they do...
As they do.
So let's all pray for young Greta, the witch. That her demons be cast to the dry places and cut off from principalities and powers. That every word she speaks for this agenda come to nothing and comes against the dark covens who are running her. That her labors are blocked in all ways as to destroy this movement of lies. Amen
FROM THE INTERNET
If she really wants to know what having one's childhood stolen is all about, then let her participate in muslim culture. By now she's have been raped and beaten repeatedly countless times by a smelly goat ******* animal. At the rate her country is going, it looks like she may have that opportunity.
--------